Now that the Background Challenge competition is over and the CERN community has spoken, the time has come to celebrate the winners. For three weeks, we invited you to post a selfie in your home office in front of the background that your colleagues see during your video calls on our platform and to vote for your favourite picture.
We hope that these pictures made you smile, laugh and feel closer to our community in a moment when circumstances force us to be apart. Now to our winners!
Adelina Eleonora Lintuluoto, a CMS collaborator working at the University of Helsinki, found the niftiest place in (on) this house in Loughborough, England, to get some work done and snatched the top spot of our contest. "I spent the first two weeks getting to know this house that was new to me. Finding my spot. I must have been a bit restless one day, as I noticed that the bedroom window looked large enough for me to fit through. Indeed! Even better, on the other side was a roof perfectly shaped to lounge in. Despite everything I've heard about English weather, it's actually been amazingly sunny here and I've been able to spend quite some time social distancing eight metres above the pavement, in remote calls or playing online Bridge with my friends there. In the picture you can also see my new-found love, English scones."
Simon François Cherault, from the Department Head Office of the Engineering department, reported from the war zone he calls home: "And suddenly, we have to deal with the usual meetings, the usual activities, and the improvised home workstation and the kids playing around us on top of it all! We might be of different ages, but we share the same inclination towards silly fun." 
Annika Hollnagel, working at the University of Mainz (Germany) for the SHiP collaboration, spent some of this lockdown at the hospital. "Working in particle physics and international collaborations, teleconferencing isn't new to any of us, but due to the pandemic, even important in-person meetings are now switched to remote-only. While I was stuck for two weeks at the hospital with an actual COVID-19 infection (gladly not a severe version, but underlying health conditions made me a high-risk patient), I tried to participate in our meetings when feeling well enough. The only one not wearing biohazard gear when inside my room was Totoro, who kept watch over me."
On a lighter note, Willy Van Den Broucke, working in the Cooling and Ventilation group of the Engineering department from the other side of the lake, was keen on using culture and computer-generated groundhogs to reflect on our confined existences: "Quarantine feels like the movie Groundhog Day (in which the main character, stuck in a time loop, relives the same day endlessly). To stress that point, the groundhog always accompanies our EN-CV virtual meetings. The same day, over and over and over again."
Special mention to those whose pictures showcased that stage 3 is not just about sitting at home. Some of us never stopped coming to CERN, be it intermittently or not, just like our proud firefighter who shared his background picture with us: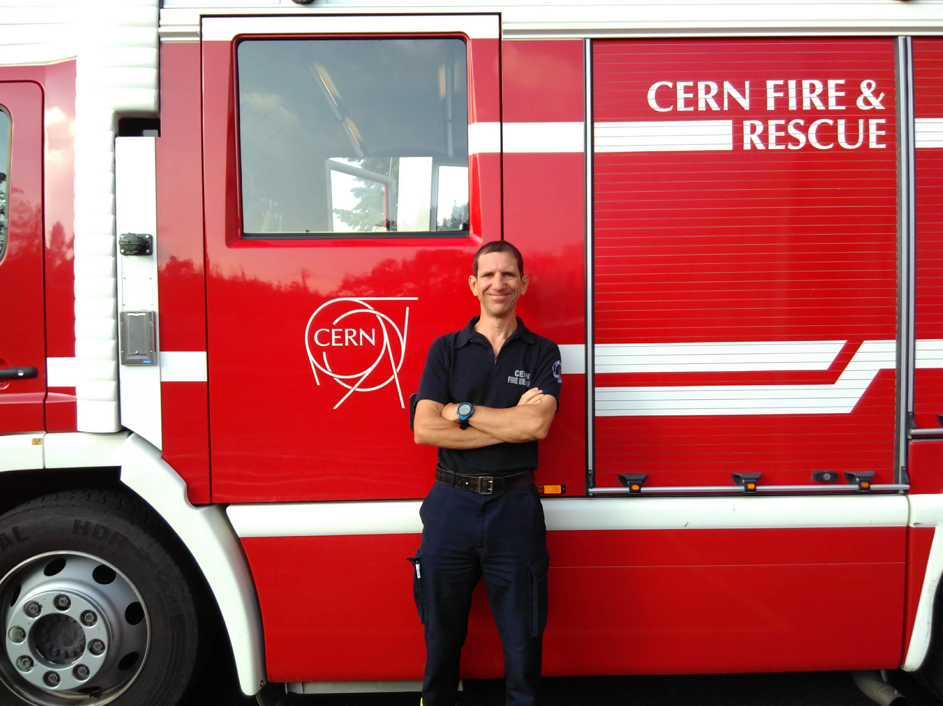 Finally, this competition was an opportunity for us to establish that the house cat truly is the spirit animal of the CERN community (sorry to all the dog people out there). At times, this contest felt more like a beauty pageant for cats than a home office photo competition. Here is a selection of our furry friends with their humans:
A big thank you to all those who participated in the competition by sending us your lovely pictures and voting! We hope you enjoyed it as much as we enjoyed making it. Until next time, stay safe!
The CERN communication team